Aston Martin Red Bull Racing Hospitality
---
A
ston Martin Red Bull Racing's outstandingly attractive hospitality includes everything you could imagine. With offers like Red Bull Racing's own Paddock Club, you will find yourself surrounded by the team, F1 heroes and top-class service in relaxed environments. Leaving your Grand Prix weekend in the hands of Aston Martin Red Bull Racing is a safe experience enhancer: they are famous for offering one-of-a-kind hospitality where you get invited to discover the inner circle of the team and the race preparation.
---
EXCELLENT SERVICE
Delicious meals and exclusive drink selections in relaxed, yet elegant, facilities.
Behind the scenes
Get to know the team from the inside with driver interviews, the Pit Link and guided tours.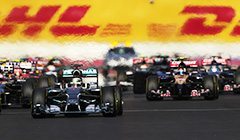 Premium views
Red Bull Racing hospitality gives you the best locations and the most desired race views.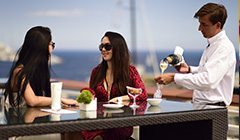 Team Hospitality
Unrivalled weekend experience inside a Formula One Top Team. Get a chance to meet the talented individuals!
Aston Martin Red Bull Racing Events
---
T
he Aston Martin Red Bull Racing Formula One Paddock Club packages are available for every grand prix of the Formula 1 Season – from the opening race in Melbourne to the thrilling close in Abu Dhabi. There is simply no better way to enjoy F1 and get to experience the action from behind the scenes. Choose your favourite F1 destination and book an unbeatable experience today.
---
Aston Martin Red Bull Racing Gallery
---
Meeting Aston Martin Red Bull Racing team members, relaxing in the first-class lounges and watching the races from the best spot at each track are just a few examples of what awaits you in the middle of the circuit. See all the Aston Martin Red Bull Racing action in pictures below and get a sense of the superb F1 experience a Red Bull Racing Hospitality ticket will give you:
Join the excitement today